To celebrate World Card Making Day, we are hosting a blog hop with our amazing design team in hopes of inspiring your creativity with our fabulous products!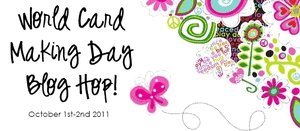 To participate, all you have to do is leave a comment on each of the 16 blogs on the hop (a complete list is below). The deadline for commenting is 11:59 EST, Sunday October 2nd. Five winners will be chosen by Random.org on Monday, October 3rd and will be announced right here on the My Momenta blog! Each winner will be receiving one of our five boxed card kits…

Each Card Kit contains 12 Cards and envelopes. Assorted stickers, cardstock borders and gems!
We are even tossing in a BONUS entry! Simply head over to our facebook page after the blog hop, like us if you haven't already, and tell us that you blogged hopped with us! Don't forget to leave a comment on the Momenta blog letting us know you have completed the hop!
I had fun designing fast simple cards using
Card Packs ( NC-1279)
,
NC-1278
with Cardstock (PA-2370) and Sticker Kit (ST-4826) from the Let's Party Collection.
The letters on this one are from the 12 x 12 Brights Diecut Pad
( PA-2393)
. I added texture and dimension to them by dry embossing them with a stylus. It instantly adds extra character!
We hope that you have lots of fun and enjoy the wonderful creations from our Design Team!
Blog Hop Line Up --
•Start: Momenta (
http://mymomentablog.blogspot.com/
)
•Abigail Prado (
http://www.faithabigaildesigns.com/
)
•Aymee Gandy (
http://www.southernbellescrapper.blogspot.com/
)
•Carrie Walz (
http://everydaymoments-carrie.blogspot.com/
)
•Christine Meyer (
http://scrappingwithchristine.blogspot.com/
)
•Cristal Hobbs (
http://blueyecicle.blogspot.com/
)
•Erin Morehouse (
http://girlpaperscissors.blogspot.com/
)
You are Here
•Jamie Cripps (
http://jamielanedesigns.blogspot.com/
)
Go here Next!
•Joanna Bandelin (
http://scrap-making.blogspot.com/
)
•Jodi Wilton (
http://luvalotland.blogspot.com/
)
•Kristine Berc (
http://stashofprettypaper.blogspot.com/
)
•Linda Abadie (
http://lindaabadie.com/
)
•Monika Wright (
http://iloveitallwithmonikawright.blogspot.com/
)
•Sherri Thompson (
http://www.sherrithompson.blogspot.com/
)
•Bonus Entry: Tell us you hopped along on our Facebook page! (
https://www.facebook.com/mymomenta
)
•End: Momenta (
http://mymomentablog.blogspot.com/
)